Real-time Pollution Data Monitoring System
Real-time Pollution Data Monitoring System As Per CPCB Guidelines
Thermal Scanning System is a very powerful yet compact 4G-LTE enabled screening solution with a thermal and RBG camera suitable for remote monitoring and screening people's temperature. It is equipped with AI enabled facial tracking for accurate localization and tracking of people's temperature for quick and efficient isolation of feverish individuals without manual exposure of any personnel.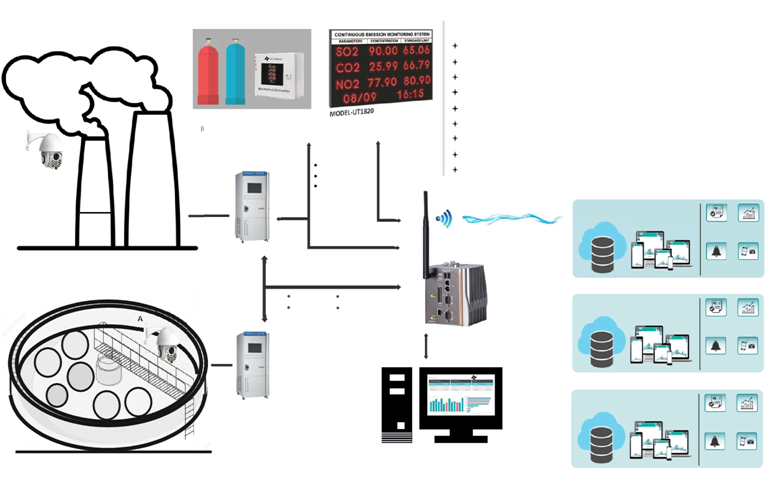 Can connect different analyser with all communication ports.
Can do any Remote Calibration Analyzer Make and Model
Automatic server base data Back filing facility in RTU With 4 GB Memory.
Supports immediate and scheduled Remote Calibration of Analyzers
Different Solution available like wired/wireless / GPRS/ Ethernet etc..
Live Consolidated Dashboards including Analyzer Status and Faults
PTZ- RTSP Protocol Camera Connectivity.- Auto E- Mailing and Auto SMS Facility.
Real time data monitoring and treading dashboard with alarm.
Auto generation of Qual 3 Reports and CUSUM, SHEWART and EWMA charts
Remote Calibration System as per CPCB Guidelines
Remote Calibration System Complete Remote Calibration unit packaged with all controls and instrumentation ready for performing remote calibration from CPCB Server / SPCB Server. HMI for local calibration Remote calibration, configuration and complete protocol integration with remote diagnostics. As per the COMPLIANCE REPORTING PROTOCOLS FOR ONLINE CONTINUOUS EMISSION & EFFLUENT MONITORING SYSTEMS published by CPCB on 13th March, 2018 requires the industries to submit their Calibration procedures adopted. Also the details of instruments supporting remote calibration, calibration data and calibration history are to be provided. We are fully complaint with the requirements for Remote Calibration and Check Procedures laid down by CPCB.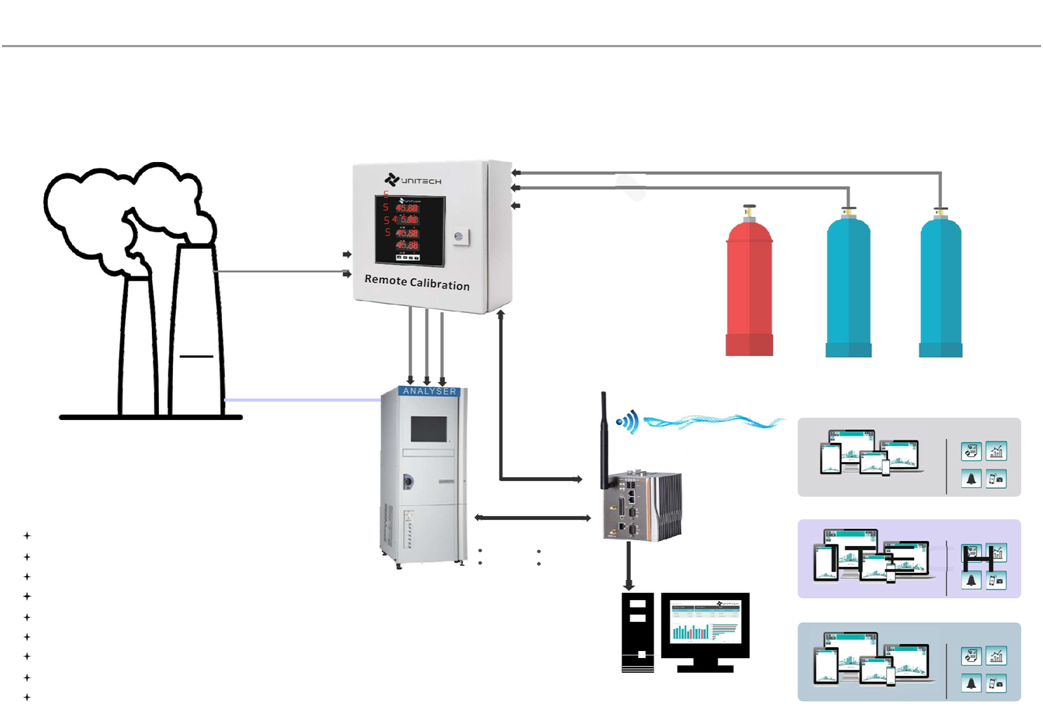 KEY FUTURES
No Static IP required
Can do any Remote Calibration Analyzer Make and Model
Performs 2 point calibration check (zero and span)
Supports immediate and scheduled Remote Calibration of Analyzers
Compact Design with Gas control Solenoid valves and valve controller.
Live Consolidated Dashboards including Analyzer Status and Faults
Remote calibration possible with Analog Analyzers (4-20mA output)
Pre-built Remote Calibration Reports for Regulatory Compliance including IED reports
Auto generation of Qual 3 Reports and CUSUM, SHEWART and EWMA charts
Real-time Pollution Data Monitoring System As Per CPCB Guidelines
Different manufacturing product for The server connectivity systems